"Henrik Fisker has accomplished enough in his automotive career to fill a few lifetimes. A graduate of the now-defunct Art Center College of Design in the Swiss town of Vevey, he started his professional life at a special BMW design unit, where he helped create the Z07 concept car that would eventually morph into the production Z8 sports car. Fisker then joined Ford and eventually became the chief designer of Aston Martin, where he turned Ian Callum's design template into the DB9 and the V8 Vantage.
But the Dane aspired to create his very own cars. In 2005, he created Fisker Coachbuild and sought to build 150 units each of the Mercedes SL–based Tramonto and the BMW 6-series–derived Latigo. But just 15 of the former and 2 of the latter were made before Fisker had founded a much bigger project: Fisker Automotive. We all know how that ended up: The beautiful but impractically packaged Karma plug-in hybrid seldom worked properly—and never came close to projected sales numbers. The company was bought by the Chinese, and the final Karma bodies are being converted into 200-mph Destinos powered by Corvette engines. Fisker doesn't object; the Karma was about style above anything else.
Now helming HF Design, Fisker has returned to the spotlight with an unlikely partner: Galpin Auto Sports, the Californian customizing firm most folks probably know from Pimp My Ride. Fisker approached GAS president Beau Boeckmann at this year's Pebble Beach Concours with a few sketched ideas for the new 2015 Mustang, and the king of pimped cars was all in.
Once the partnership was formed, Fisker—in "the OEM way," he says—got to work executing a full design process, including a life-size clay model. The resulting car is intended to re-create the spirit of the 1968 Shelby GT500 on the bones of the all-new Mustang. The glass is shared with the cars that roll off Ford assembly lines, but the vast majority of the body is unique and formed—with the exceptions of the doors and the roof—from carbon fiber. There's an elongated hood with two massive intakes, a carbon-fiber hexagonal grille, re-sculpted fenders, a new decklid with integrated rear spoiler, and a beefy rear diffuser. Everything, Galpin and Fisker say, is intended to channel airflow for cooling or downforce needs.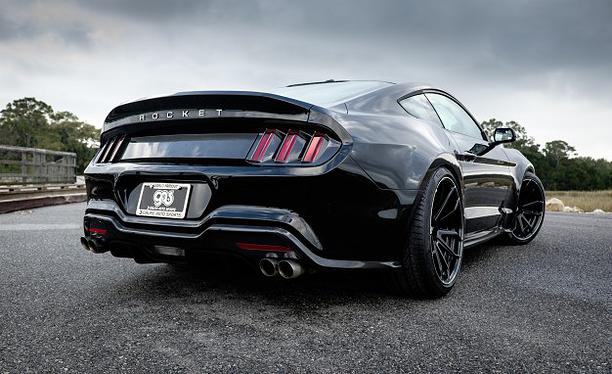 As for the dirty bits, the changes include a fully adjustable suspension and plopping a supercharger on the V-8, which now makes a menacing 725 horsepower. The brakes are 15-inch Brembo pieces all around, with the back pair being fed air through new inlets cut into the rear fenders. Twenty-one-inch wheels wear Pirelli P Zero rubber.
The Galpin Rocket aims to be the ultimate American muscle car, and we love that it looks unique without denying its Mustang roots. It looks more powerful, muscular, and aggressive than the regular Mustang. The car was launched at this year's L.A. auto show to the awesome Harry Gregson-Williams The Equalizer soundtrack, which was appropriate: It was one of the most impressive things at the show. If you want one, get in touch with Galpin now: Production starts this month and deliveries begin early next year. Chalk this one up as another of Henrik Fisker's impressive accomplishments." via CarandDriver.com